Easy Steps for Approaching Employers for Quoting Group Health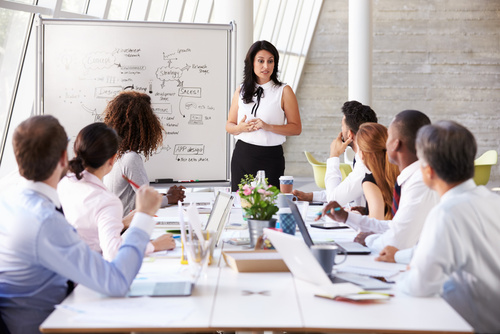 There is one golden opportunity when almost every employer, every year, will shop their employees' group health insurance. It is almost an annual tradition.
All you need to know is when.
It is very often the case that employee benefit renewals coincide with the calendar year and this is when employers take quotes. In the meantime, brokers can line up willing and waiting prospects, put them in their "tickler" file and call for an appointment when the fire is hot. While getting your ducks in a row it's also common to run into prospects whose plan doesn't fit neatly within the calendar, allowing brokers to keep busy with "off season" clients.
Finding Prospects:
If you offer P&C lines of coverage, you probably have prospects for group health insurance already sitting in your files. Even if you don't have a business' P&C coverage you probably cover their owners, CEOs, CFOs or heads of HR for home or auto. These are the people who make benefit decisions. Make a list.
Any parking lot, door or sign within a community or industrial park is a prospect, and with the internet there are numerous sites that will tell you what you need to know; employment size, executive names and phone numbers. It took this writer less than two minutes to find all of that info for one company with 800 employees by just googling it's name and location after I googled "manufacturing, (city name). Google any industry type and you'll never have to leave your desk to do this.
Your money is in the list. Take the time to get your list together and it will be hard not to sell a self-funded health case.
The Approach:
Make a call. No one likes cold calling but this is super simple and doesn't come with that dreaded rejection factor, because you're not going to be asking for the sale. Even if you don't know who you should be talking to, ask the person on the other end of the phone:
"Can you tell me who handles your health insurance plan?"
Then be still. Wait for an answer. It will come; then ask to be connected. When your call is forwarded introduce yourself and simply get the health plan's renewal date.
"I was just wondering if you're taking quotes or if not now when would be a good
time to call back"
Get the date and the person's name.
Send a postcard or letter. If you really hate the phone, send a letter. Include three
bullet points that grab attention:

"What if I could…
Immediately save you 25% off your group health coverage with the potential for more.
Offer flat or decreasing renewals.
With a plan that has an average retention rate of 12 years.
Wouldn't it be worth 2 minutes of your time to give me your renewal date so I can provide you a quote at the appropriate time of the year? Just call 800-877-3727."
That's it…short and sweet.
Keep your name in front of the prospects for whom you get a renewal date. Once a
month send that person a quick message with helpful insights, or a quick link to
MBA's resources such as this helpful blog that offers information for employers. There
are plenty of pages on the MBA website that offer good information you can use.
It really is this easy to get in the door of a larger employer because every one of them wants to cut employee benefit costs.
Here are a couple of pointers:
   Call your contact three months before the renewal date. This gives you plenty of time to get and present a quote – and hopefully be going through an enrollment process.
   If you make more out of this process than what it is, you're working too hard and obsessing too much. Don't ask for the sale; for now just get the renewal date.