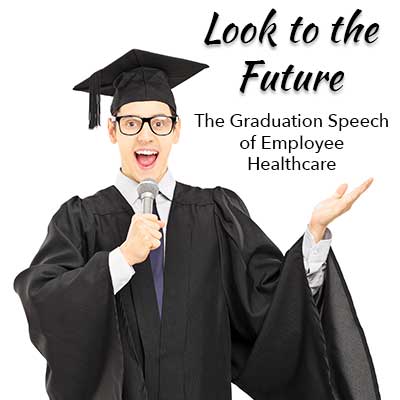 Look to the Future: the Graduation Speech of Employee Healthcare
Congratulation employers! You have just graduated from the school of hard knocks for medical benefit coverage for your team! Ladies and gentlemen, tonight we are celebrating the significant accomplishments healthcare coverage, while keeping your books in the black. In the past we have had many…adventures. We have lived. We have learned. But now, different things lie in front of us.
I would like to begin with gratitude. On behalf of the company medical benefit plans in place today, I would like to extend a thank you to the plans who saw in us our potential to pay them exorbitant rates. Thank you to the authorities who claimed to know what was best for us and didn't allow us to access our information very easily. We wouldn't be here without you.
And now, let's reminisce. We have so much to remember; what a journey it has been.
Of course we all remember the time when we started looking for employee medical benefits. We were scared. We weren't sure what to expect. We may have gotten burned once or twice….or more times than that. But we survived!
As we became more confident, we learned to handle the stress of employee benefits without giving up on our dreams of being successful businessmen and women.
On that note, I wanted to share a special memory I have. It was the end of the fiscal year and I was so afraid to look at my financial statement. I knew that it would force me to acknowledge that more was going into overhead than profit. But because of you all, I wasn't alone. You had experienced the very same thing, year after year, and you understood me and helped me through.
One unforgettable trend that we experienced together will stay in my memory forever. All of our employees complained because their physician did not accept our policy. Going out of network to see your preferred provider seemed to be the "thing to do." I have to admit that I even did it once or twice.
In this pivotal moment in the Healthcare industry. It is important to remember that we all grow from failures. For example: the failure we faced when haggling with the insurance company to lower the ridiculously high premiums. We learned to just be quiet and take whatever they shoved in our faces. We can take these learning experiences with us to help us appreciate what can now be ours.
Everything of the past has been to prepare us for this moment: this new horizon of medical benefits. It is better than we can imagine.
With The Open SolutionTM—we will be empowered to make decisions based on our needs, rather than our network requirements. We will keep our profits. We will take better care of our employees. We will choose which doctor and which facility to visit to take care of our medical needs. We will be setting the pace for the future of our companies.
Let us seize the day. Remember, we decide who we become. This is your day. The future belongs to you.
Congratulations, graduates!